With factories shut, stores closed, events and bookings cancelled, the economy is still at a standstill. A time filled with crisis and uncertainty, a number of our clients in India continue to suffer due to the lockdowns and quarantine.
At Modifyed, even though the times are challenging, we are working harder than ever before. (Yes, from home!) We felt that shutting down our business was definitely not going to help – steering it into a better, sustainable direction would.
In this time of crisis, if not by actively executing marketing activities, I thought it would be a great idea to serve my clients, friends and well-wishers by sharing ideas and thoughts as inspiration to help them get out of a mental jam.
Here are some ideas that have sprung from internal brainstorming sessions, conversations with clients and friends.
5 Actionable Digital Marketing Strategies Entrepreneurs Can Use to beat Covid19
(Most of these ideas can apply to traditional manufacturing, trading or service businesses. For more specific ideas, please leave your comments below. Also, I have created my very first YouTube video based on some of the ideas covered in this blog post. Please do like, share and comment on the youtube video as well!)
1. Leverage Value Based Marketing
As a business owner, if you have been marketing yourself with the objective of increasing sales, now would be the time to start thinking of a digital marketing strategy that incorporates value based marketing. In short, value based marketing is an educational form of marketing where a business offers intrinsic value to the audience through their expertise.
You can start by documenting your vast knowledge, and start sharing that with your business associates via social media platforms.
Create content assets such as checklists, workbooks, cheatsheets, videos, roadmaps, frameworks etc that can help people in your target clientele solve their problems.
Many of my friends are creating Cat Pages, or Dog Pages on social media platforms to maintain visibility – if you're really bored, that is an option 🙂
The benefits will far outweigh the time commitment it requires. The more you create relevant, unique content, the better your prospects at surviving. Even for employees, this can be a great time to polish their Linkedin profiles, create case studies out of their work, or upgrade their resumes.
Consolidate Your Content (and Strategy)
If you have already been creating content, whether for marketing or sales, then can you organise it better for marketing or training purposes? We rarely get time to effectively consolidate all the content that we create in various formats – emails, word docs, PPTs, PDFs.
You need to start documenting your pitches and proposals.
You need to create marketing presentations for sharing via online formats and mediums.
A simple status check can help you review what's working, what's not working, what is required next to make an impact in the market place. Can you put all your content in a single google sheet?
Businesses who can benefit from this – Finance, Legal, Business Consultants, Coaches, Professionals, Small Organisations, Business and Management Consultants, Coaches, Knowledge based Professionals, Comedians, Business Leaders.
2. Adapting Or Pivoting Your Business
If your business is in an absolute rut, then now is not the time to sit and wait around for things to get better. Instead, you need to get out and take massive action – and try to unlock new avenues for adapting or pivoting your business model.
Questions to Ask:
What are the hottest topics right now, in your business?
Covid19 has massively disrupted most industries, but it has also thrown up great opportunities in other industries. Can you join a business ecosystem which is buzzing?
What are some other buzz words? Work from Home. Playing with Pets. Interior Design. Personal Healthcare. Besides Corona will probably not last forever, whatever you decide to do must tag into your long term goals as well. (See point number 7 for building a complementary business.)
What new problem can I solve for my existing customers? (they have recently done business with you and are likely to buy again)
Not all businesses might be able adapt to Corona, but complementary areas could be found. A restaurant client of ours has started offering discounted meals to hospitals in the vicinity who have overworked staff. Most garment manufacturers are now making face masks.
In my business, the key buzzwords are Online Learning, Online Consulting, Video Conferencing, E-commerce. We are exploring ways to adopt this more actively in our core business and marketing strategy.
You might have been in a business that cannot be done during a Pandemic lockdown, but can you think of and execute a complementary business that supports your primary business model, and leverages your old clientele?
Examples (some are clients, others are friends / associates):
A Gym owner can start trading in supplements (vertical integration)
An insurance agent can start his training programs (shifting to a knowledge based business)
A school can launch online courses (evolving the core product offering)
A manufacturer can launch manuals / guides (shifting to a knowledge based business)
An offline store seller, can create an online store (but obvious)
My perspectives on choosing the complementary business model usually consist of the following check-points – it must directly benefit my current customer base, it must be a digital business, and it must have reasonably good profit margins.
Applies to all businesses.
Businesses who can benefit from this – Brick and Mortar Stores like Gyms, Salons, Hospitals and Healthcare, Pets, Astrological, Manufacturers.
3. Building an Online Business Using Agile
Nearly every business model can be taken online these days. How can you take your business online? That's the number one question you should be asking and trying to answer. Don't get me wrong – I'm not asking or expecting you to take your entire business model within a span of month. You can very well try and do it. What I'm asking is – can you do it in bits and pieces?
A very popular development approach called the Agile Methodology offers the answer. Try to look for the minimum viable product / service that can be promoted through digital mediums and then gradually build up on it.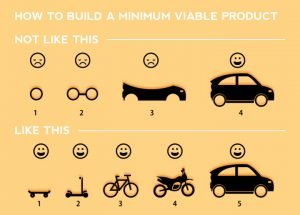 Can you start with a Facebook page, instead of a full-fledged e-commerce site? Can you start collecting payments only, instead of offering the entire shopping cart experience? (We implemented this for an insurance client who is now saving almost 3 hours each week in manual collections).
More ideas: Can you offer a 2 hour consulting call? Can you get a calculator integrated online to help your customers self-calculate quotes? Can you post informational videos about your business?
The idea is to identify what are the actions being done manually, and then figuring out a digital way to execute it. Schools have surprisingly adapted themselves extremely fast, setting up virtual classrooms within a matter days.
Businesses who can benefit from this – Brick and Mortar Stores like Gyms, Salons, Hospitals, Schools, Educational Institutions, Medical Professionals running clinics.
4. Building a Community
A number of business owners at some point, realise the power of community. And they focus their efforts on building a loyal community, instead of selling. This has its pros and cons, but from a long range perspective, a community is definitely a great value add to your business. If you cannot do business right now, can you create an online community of people who might benefit from your knowledge? A gym owner might not be able to run his gym, but he can focus on building a community of fitness enthusiasts on a Facebook group. Later on, when the gym starts, then he has a ready fan-base to promote his products to.
For those who already have an audience, now would be the time to engage with them. Be there for your audience. When the economy picks up (and it will), who do you think your prospects will rush to?
Testimonials + Feedback = Future Plan
The action item on most of our task lists that is often not done is to collect testimonials and feedback for our services or products. Collecting testimonials and feedback is critical in your digital marketing journey is great to build a credible community around your business.
These testimonials can also be used on your website, emailers, blogs, presentations, social media posts, and many other client-facing digital properties. This is a very simple, but very effective technique to increase social proof around your organisation, which will make selling easier.
Applies to all businesses.
5. Automation and/or Templatisation
One of my associates in the financial services business runs a very old, traditional consulting business. They had been struggling to collect important payments from willing clients due to the lockdown. In India, chasing clients for payments is a common problem. The solution? A simple web-enabled payment gateway. Now this payment gateway is going to serve this particular client for all time.
Figure out some routine, repeated tasks in your general business workflow – what aspect would you want to automate, and free up your time?
We have helped another client automate their followup email sequences, by using marketing automation platforms such as Hubspot and ActiveCampaign. Each enquiry that comes through on their website's contact's forms is automatically sent a welcome email with 3 default call to actions. Based on those actions, followup emails are sent. This save on average, 15 minutes of their sales person's time, per enquiry. The time saving on 1500 enquiries is mind boggling if we calculated.
Applies to all businesses.
Templatise Your Business
By reducing the cost of your goods or services, you can cater to a larger market. One of the best ways to reduce this cost is to templatise how you do things. Is there a stand checklist of items that you can offer to a selected group of customers? By creating a standard operating process for your most common tasks, you can eliminate mistakes and deliver a consistent quality of work, making business growth repeatable and scalable.
We are doing this in our business by offering SEO packages, Social Media packages, Website Design packages, etc – a standard checklist of service tasks that we will execute for a standard rate. It's easy for the client to visualise what he will get, and its easy for us to execute because there is clarity in our teams on a pre-decided scope of work.
Applies to all service-based businesses such as Insurance Agents, Banking and Loan Services, Travel Agencies, Financial Consultants.
Conclusion
Dealing with crisis and disruption is an ingrained habit that leaders have to go through. With economies undergoing a massive digitisation,  Adopt digital ways of marketing and growing your business is a sure-shot way to preserve yourself from extinction.
Coronavirus has accelerated the need for most (if not all) business owners to actively start building out the next phase of their businesses on digital mediums, or using digital technologies. There are many other ways and means through which one can take advantage of a changing market conditions, to evolve their business and marketing methods.
This is post is a work in progress, and we will continue adding to it in the days ahead!