DIGITAL MARKETING FOR HealthCare
The
best Digital Marketing Services for Healthcare.
Do You Want Qualified Leads?
Modifyed Digital - Your Best Bet for Successful HealthCare Digital Marketing
A thing like the 2020 lockdown can result in thousands of patients with mild to severe ailments not receive adequate medical care and attention. Either because hospitals are overcrowded or because of fears stemming from environmental factors, this is not only a major healthcare crisis but is also lost revenue for hospitals, clinics, doctors, and other healthcare providers. Straightforward online integrations can drastically go on to help solve this problem.
Clients We Have Worked With
SPECIALIZED MARKETING SERVICES FOR Healthcare

Website Development Services
Modifyed Digital offers simple yet comprehensive website design and development services for hospitals, nursing homes, clinics, doctors, ayurvedic hospitals and treatment centers, and other healthcare service providers. We design and develop fully responsive websites that can be accessed on all devices and come with features like appointment reminders, schedulers, payment gateways, and more.

Digital marketing services for hospitals and healthcare service providers
Generate more local leads, promote your services, and raise awareness with Modifyed Digital's digital marketing services for hospitals, nursing homes, clinics, and doctors. With a special focus on local listings, reviews, email marketing, and SEO optimization, we can help you take your services online and generate a continuous stream of traffic towards your website and sales platforms.

Search Engine Optimisation and Management for Hospitals
A recurring problem that hospitals face with their websites is that it fails to show up in their local search and generate traffic. This has got a lot to do with faulty SEO, Modifyed Digital offers best-in-class Search Engine Optimization and Management services for hospitals, nursing homes, pharmacies, and doctors. We help healthcare service providers consistently rank on Google and show up in the local search results to help boost traffic and ultimately increase the bottom line.
Social media marketing for healthcare professionals
Give your brand a human voice by taking your hospital's digital marketing activities one step further. Modifyed Digital offers the best social media marketing services for hospitals, nursing homes, and individual practitioners in Delhi NCR. We do everything from social media content creation, viral campaigns, targeted advertising on Facebook, Instagram, and LinkedIn, and influencer marketing campaigns for hospitals and healthcare service providers.

Boost your Clinical Practice with organic and paid promotions
We help hospitals, clinics, nursing homes, doctors, and pharmacies take their services to a wider audience by running targeted promotions and campaigns. From PPC services to running ads on other platforms, apps, and websites, Modifyed Digital offers full-fledged promotional marketing services to our clients in the healthcare industry. Our paid campaigns include search engines, email marketing services, social media promotions, app promotions, and more.

Set yourself up as a SME with our Online Reputation Management Services
With an extensive network of PR agencies collaborating with us, we help hospitals, clinics, nursing homes, and doctors manage and maintain their online reputation. This includes negative review removal services, quality backlinking services, press release development, case study creation, positive promotional campaigns, and more. Reach out to us to know more about how Online Reputation Management services can help you reach more people!
When it comes to offering Digital Marketing Services for Hospitals, Nursing Homes, Clinics, and Individual practitioners, what is important to remember is that their reputation and expertise needs to be clearly displayed along with a communication language that is empathetic yet authoritative. Understanding these clear cut nuances and being able to flawlessly execute them is what makes Modifyed Digital a leader in providing digital marketing services for healthcare organizations and professionals. 
Paired with an extensive background in core digital marketing and a team that is incredibly knowledgeable in execution of complicated projects across multiple verticals, Modifyed Digtial can help take critical businesses online with the least number of iterations and delays. Get in touch with a Modifyed Digital marketing strategist specializing in healthcare to understand more about how we can help grow your business.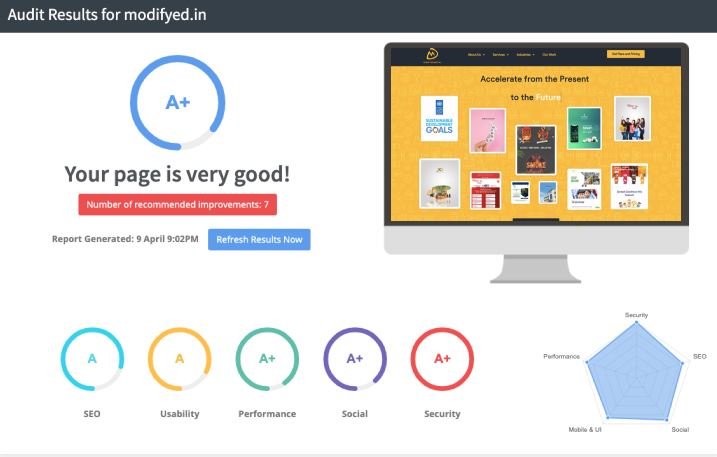 Get Your Free Strategy Session Now
Get Your Free Strategy Session Now
Modifyed Digital performs detailed website performance analysis and reports that can help you sanitize your website for the latest SEO practices and also detail the best steps you can take going forward to help increase your website traffic and conversions.
For a website to be useful to a business, it must consistently rank on search engines. Website maintenance ensures that your website is regularly updated and tested for SEO performance which keeps you in the limelight helping you land your website in the top spots on search engines.
Social media is now just as effective a platform for information as Google or any other search engine. Creating effective social media content and strategies can help your hospital showcase your main services, new developments, case studies, and critical marketing collateral that can go on to help you land confirmed leads.
Industry Sectors We Work With
Contact us today for a free consultation.
Turbocharge your Education business.