DIGITAL MARKETING FOR IT & Outsourcing
Outsource your Enterprise Digital Marketing services
Do You Want Qualified Leads?
Modifyed Digital - Your Best Bet for Successful It & outsourcing Digital Marketing
We understand what it takes to stay competitive in a digital landscape that is constantly evolving. This is why we believe that when it comes to consultants and service providers, only the most ROI friendly marketing strategies should be deployed. Modifyed Digital offers extensive marketing strategies meant to showcase your domain expertise while also leveraging on our ability to put your brand in front of key stakeholders.
Clients We Have Worked With
SPECIALIZED MARKETING SERVICES FOR it & outsourcing

Outsource your branding and design services
Modifyed Digital takes on branding and design services for clients looking to outsource their communication strategy and visual identity development. We offer technology companies, IT service providers, SaaS and other enterprise firms extended branding and design services like logo design, visual identity development, marketing collateral design, packing design, social media branding and more.

Outsource your Content Marketing and SEO Services
Have an expert team of content creators develop the most thorough and detailed blogs, articles, case studies, and reports. With the help of quality long format content we help IT, Enterprise, Consulting, and Outsourcing firms rank consistently on search - helping them outpace their competition. We believe that content marketing is at the heart of promoting consultants and setting enterprise firms as subject matter experts and therefore deploy multiple strategies to improve your SEO ranking and performance.

Social media consultations and marketing for Enterprises
Modifyed Digital offers end-to-end social media marketing services to IT, SaaS, Consulting, and Enterprise firms across Delhi-NCR and India. We create long term brand value for your organizations across social media platforms like LinkedIn, Facebook, and Instagram - promoting you and your products and services. Our social media marketing services include regular competitor analysis, social media content creation, community management, and more.
PPC and paid promotions for software products and IT events
Promote your products, services, and consultations with the help of expertly curated PPC strategies. We help you boost enquiries, sign-ups, subscriptions, and purchases with the help of PPC campaigns and paid promotions. We help you market yourself to a demographic, based on a location, or set up campaigns targeted at niches, reach out to Modifyed Digital to help you figure out the best PPC and paid promotions strategies would be right for you.

Responsive Web Design and Development for Enterprise and IT firms
Modifyed digital creates flawless websites that help you convert leads and land clients. With a focus on increasing the efficiency of your digital presence, Modifyed helps organizations develop clean and resourceful websites that showcase you as a subject matter expert. Our web design and development team has over a decade of experience conceptualizing, optimizing, and delivering websites that are fast, responsive and reliable.

Social media and marketing content automation for Enterprise
We help plan and schedule your outbound marketing programs and campaigns at the start of every month so you can effortlessly keep in touch with your main audiences. We help businesses develop social media calendars and campaigns, email marketing calendars, live webinars, event promotions, and more. Get in touch with a content automation expert to learn more.
Modifyed Digital has over a decade of experience in digital marketing and has handled over 100+ clients across industries in manufacturing, nonprofits, enterprises, healthcare, education, and real estate. We are a team of 20+ core digital marketing professionals who help brands, products, and service providers find a unique positioning point online. With the team driven to find better and more effective ways to help businesses succeed in the online marketplace, we believe that our primary objective is to help businesses increase their bottom line. 
Picking Modifyed to be your digital marketing agency means you bring on board an extensive list of human and technology resources specifically for the wellbeing of your business. With core agile digital marketing strategies and a team bent towards optimizing performance at every given turn, Modifyed Digital should be your number one pick for digital marketing services in Delhi NCR.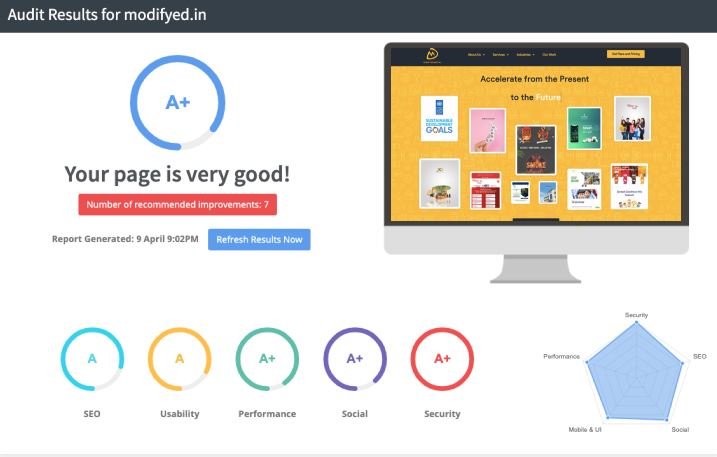 Get Your Free Strategy Session Now
Get Your Free Strategy Session Now
Depending on the scope of your project, we can deliver a small term social media campaign within a week of signing you on.
Yes we help turn older websites into XHTML complaint responsive websites but added features and functionalities.
Industry Sectors We Work With
Contact us today for a free consultation.
Turbocharge your Education business.